Do these common writing obstacles trip you up?
A slow or so-so opening
An article or story that's good but not quite great.
Dialogue that weighs down the action.
Lots of showing, but not a lot of telling. (And what's that mean anyway?)
Your article or story is "too big" for the small word counts of children's literature.
Nonfiction that feels like a dry list of facts and isn't an engaging as you envisioned.
Sentences that don't quite convey the story or topic in an way-to-understand way.
Your work doesn't seem to fit in anywhere in the market.
These are common problems writers like you have everyday.
What you need is a system that will help you see your manuscript in an objective way—a new way that will take your story or article from "meh' to OMG!
The Institute of Children's Literature has you covered with our in-depth self-led REVISION POWER: Revise to Publish course.
The deceptively simple 300-word story you encounter in a picture book or magazine for toddlers may have gone through dozens of drafts before it appeared in print. The seemingly straightforward article about endangered coral reefs you see in a middle-grade magazine may have been recast, reorganized, and revised until it scarcely resembled its first draft.
Was this the work of editors? No, it was work done by the writers themselves before they submitted their manuscripts for publication—a process of self-editing that shaped and polished their writing to professional standards and to each magazine's requirements.
The goal of this self-led course is to teach you how to make self-editing a systematic part of your writing life—not an extra step you impose on yourself, but an ongoing, creative, and even pleasurable aspect of developing your ideas into polished, marketable stories and articles.
There are 10 workshops with 101 units covering fiction and nonfiction revision strategies. With workshops, exercises, and checklists for books, articles, AND submissions - it's three revision courses in one!
You get:
10 workshops with downloadable PDFs and exercises
Our Children's Publishing Genre Guide
Checklists in each workshop
Raw examples - we show you how we polished them to make them shine
Punctuation Pointers
Dialogue samples that illustrate how to make corrections of common errors
A magazine issue analysis guide so you know where, why, and to whom you're submitting
Age-targeting for fiction and nonfiction
Quizzes in the Your Turn sections
Book Markets for Children's Writers ebook and print edition ($35.94 value)
Magazine Markets for Children's Writers ebook and print edition ($35.94 value)
Revision Power: The Best Words to Write With ebook and print edition ($27.94 value)
20% off our Critique Service (up to $1,900)
and much, much more.
Remember, it's digital and online, you have access any time, anywhere you have an internet connection. Plus, it's lifetime access, so you can use these workshops on every manuscript you write.
"Right at the start of reading Shaping Your Story [in Workshop 1], it explains approximately how many words to use in the beginning, middle and end of an article or story. What an eye-opener. ... I am so excited. I know this is money well spent and a fresh way of looking at my writing. 
Thank you so much,"
Marge G.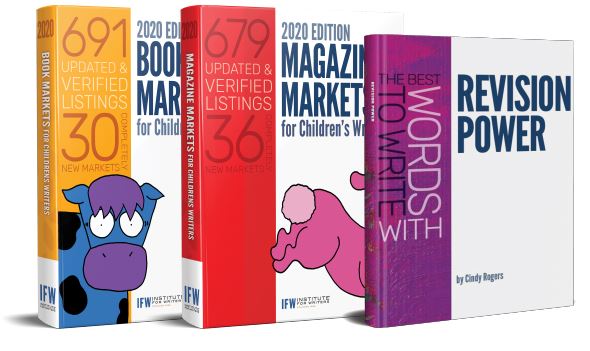 BONUS!
Revision Power Book Bundle
Gold level students get digital and physical copies of Book Markets for Children's Writers, Magazine Markets for Children's Writers, and Revision Power, The Best Words to Write With. (Books ship for free in the continental US. Addresses outside of the continental US will be charged additional shipping fees.)
Value $70.74
BONUS!
20% off a Critique from an ICL Instructor
Gold level students get 20% off a fully annotated critique and overview from one of our instructors with what's working and what's not in your manuscript. From picture book manuscripts to novel length critiques this is a value up to $1,900.